Right after the class 10th exams commence, students start deeming butterflies flying! There is this confusion all around regarding the next step in their life. When you start thinking about your future, the first question boils down to "Which subject to choose in class 11th for software development?"
In case you are clear that you are inclined to pursue software development, then VOILA! Half of the work is already sorted. Most of the time, students are unable to figure out a stream that they want to pick up. Largely, it is owing to their ambiguous state of mind regarding their future aspirations.
Firstly, you need to understand that once you are out of your secondary school, you have three streams to choose from:
Science,
Commerce,
Arts/Humanity
And which one to pick depends largely on what your future aspirations are!
Know more: Attitudes of a Great Software Developer!!
Class 11th Stream for Software Development
Now that you surely want to pursue software development, you can rule out Arts & Humanity.
Opting for arts and humanity will open up several opportunities that include psychologists, historians, art directors, technical writers, content marketing managers, public relations managers, etc.
While choosing commerce would lead you to more professional roles in business & management. If you wish to be a chartered accountant (CA), business analyst, market researcher, financial manager, entrepreneur, investment banker, etc., you can opt for the Commerce stream. With subjects including economics, business, accounting, and mathematics, commerce is considered a considerably simpler branch than science.
However, to become a software developer, you need to take up Science! Let's understand why.
Which subject to choose in class 11th for software development: Career Advice
Why choose the science stream for software engineering?
Science is a stream that everyone is familiar with when they make their first steps into higher secondary classes. Well, the main reason is that we all study science from grade 1 onwards. Yes! The other obvious reason is the popularity of the stream.
The study of natural and pure science with its application forms the core of the study of science. So. whether you wish to become a software engineer, a scientist, a doctor, or an archaeologist you would need to take science as your mainstream education.
Now science is one of the oldest and the most important academic disciplines. It is basically a way of thinking, how do you look at the world? Science covers a wide variety of subjects.
It is also one of the fundamental parts of the term STEM. STEM refers to Science, Technology, Engineering, and Mathematics. Building a career in software engineering requires you to develop certain skills such as computational and mathematical skills, logical reasoning, and high-level cognitive and coordination skills, which develop the best through the science stream.
Spice up the Technology: What Skills Are Needed To Be A Data Scientist?
The core subjects you will encounter in class 11th science stream are physics, chemistry, biology & mathematics. And choosing a science stream will help you divert to any of these fields along with software engineering such as research, science, engineering, technology & medicine-related streams.
The best courses you can pursue after taking up Science in your 11th Class are B. Tech, MBBS, BE, BSc, etc.
What is Software Engineer all about?
Software development is the process that involves all of the following
Conceiving ideas proposing ideal solutions,
Laying down an overview graph of proceedings with preferences,
Specifying appropriate requirements,
Designing the flow/model for development,
Programming,
Documenting,
Testing and bug fixing
In short, every process involved in building and maintaining applications, frameworks, or other software components is coiled up to be called software engineering. So, as a software engineer, you may take up any of the following job streams in the current industry:
Designing
Development
Planning
Deployment
Testing
Maintaining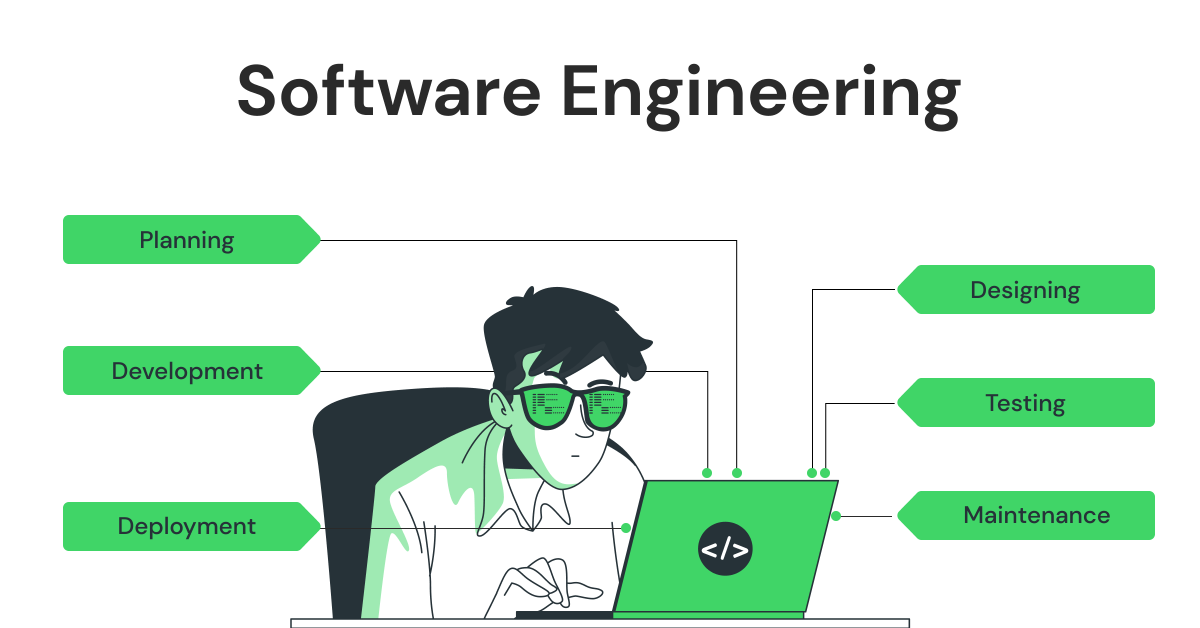 So, whichever field in software engineering excites you most, you primarily need to focus on science and get your best mathematical and analytical skills to shine through the crowd. Are you ready?
Which subject to choose in class 11th for software development?
So, in all cases, Science is what you need to take up! It will help you get all the relevant skills and thought processes you need to develop in class 11th to pursue software engineering or development in the future. You also get to take IT or computer science as provided by multiple schools across the country.
That said, we have all the courses and advanced courses that will lead you to the best positions in software development. You can start learning from wherever you are in the learning curve and get settled only when you find the best Software Engineering job match for you!
For more information on how & where to start learning the advanced courses- Check Here.
FAQS
Which subject should I study for software engineering?
In your secondary education, you should consider studying analytical and logical subjects that are included in the science stream. You can take up IT or computer science along with physics, chemistry, and mathematics to strengthen your foundation to pursue software engineering in the future.
Is PCM necessary for software engineering?
It's not mandatory but strongly advised to pursue PCM (physics, chemistry, mathematics) during your higher secondary education as it helps develop the acumen and mind for high-level analytical and logical thinking. They are very important for understanding and applying various software engineering concepts, branches, algorithms, and tools.
Can I study software engineering without maths?
One can study software engineering without studying mathematics during higher secondary schooling. Although, many colleges that provide AICTE or UGC-accredited courses need you to have a mathematical background. Usually, B.Tech courses need you to have a PCM background necessarily. Although you can easily pursue software engineering through other mediums/courses that need a little more effort to catch on the mathematical concepts.