Has your career reached a crossroads where you're considering a career switch? Are you looking to transition to Data Science? Tech is so fascinating in the current industry that transitioning to tech from multiple other backgrounds makes new trends! 
And Data Science! Oh, you got to be kidding, Data Science is the most in-demand career choice, and you, me & everyone else want to leap into a Data Science career.
Why is Data Science making such a buzz?
11.5 million job openings by 2026 with sky-high salaries!!!
Data Science is here to stay and is in its full vigor already! With the demand for data scientists showing no immediate signs of slowing down, salaries for this position will continue to remain high, especially for those who have a degree in data science or related fields.
Every other day, we come across a plethora of professionals who are making their smart move to IT. Not that the other industries are left any behind! However, the attractive packages and intriguing job roles call for a definite try!
No doubt, making a career transition midway is Big. And often overwhelming! If you are one of those technology freaks trying to make your big-time leap to Data Science from a non-IT background, then here are some transition success stories for you.

When you start pondering how to go about this big transition, get inspired by these aspirant stories that made it!
Career switch from IT Services to Data Science
Is it possible???
Well, of course, it is! We have witnessed some amazing career switches like that. And we would like to share a few with you.
But before we do that, we would like to stress the essential skills that would help you secure a Data Science career with ease.
As we keep mentioning, Data Scientists are the professionals who need to collect data, analyze the whole set of data, make meaningful insights from them, and then process the same. It definitely has more windows to look into than these.
That said, anyone who is willing to get started with Data Science skills can jump in and strive to become one with dedication and willingness.
Don't believe us? Hear it from our successful career transition stories. From different knowledge backgrounds and skills, these learners made their big-time shifts with interest and willingness to achieve.
One of the most encouraging transition success stories, indeed! Sonia Kola, who was working in IT Services found her best shift to Data Science with ZEN Class support. With a striking hike of 57%, Sonia gave us all a story to speak and get motivated along. Sonia has been trying for a long time to change her skill set and upgrade her career, and the ZEN Class from GUVI helped her in this wonderful transition. She quit her job and with strong support, she made her entry into the Data Science field with AI Enterprise Software India Ltd. We take this moment to congratulate her and convey all the best wishes to Sonia Kola for her future endeavors.
Another successful switch to Data Science
Shubham Nehete, another techie made his grand transition into Data Science with hard work & persistence. Practice is the real key to success in programming. Admitting the same, Shubham mentions that the live sessions and the recorded sessions helped him a lot in building his foundation in Data Science. He also felt that the mock drills assist and give a good glimpse of the interview in advance.
Top companies are hiring Data Analytics Professionals, even without any prior coding knowledge. Yes, when you enter into interview rounds, all that is getting analyzed is your knowledge and skills.
So, anyone and everyone stands a fair chance to enter into the field of Data Science, provided you gear up with the essential skills and know-how. Jumping with joy already?
This one would really make you get started with Data Science.
Panchal was from a non-coding background. He longed to become a Data Scientist and he did it! Though a novice to all the programming languages, he learned them all with constant support from the ZEN team and got placed with a lucrative package in Paripoorna Software Solution Service Pvt. Ltd.
When it comes to transitioning from a non-tech to a tech career, one needs to strive a lot and the journey is not easy, we admit. But
If 3 to 5 months of effort and hard work can reap you benefits of a lifetime, then why not take a chance and make the big leap at once!!!
Now an Analyst Programmer at Ramco, Antoni Harrish shares his journey to inspire one and all. He thinks that if you drive your learning from the basics to the advanced level, then nothing can stop you. Upskilling in the right career path can help you make a successful transition into Data Science. So, are you ready to accelerate your career into Data Science?
We can go on and on with interesting motivating stories like this. What you really want to be looking at is that there is no bar for making any career. You can jump from a non-IT background to an IT background, all you need to do is get started!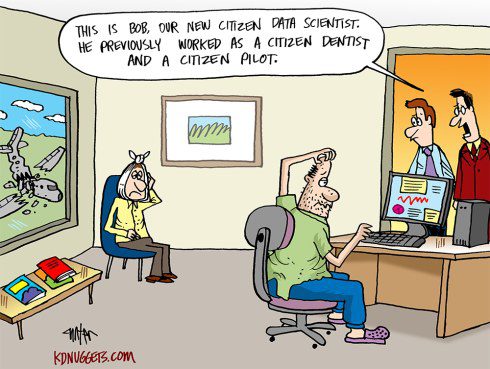 While the field of data science remains a strong ground of opportunities equally for experienced professionals as well as beginners, it demands a great deal of hands-on experience with the right tools & technologies. Any interested person with any educational background and an analytical frame of mind can take up the Data Science course.
IT professionals,
Analysts & Business Managers,
Beginners, or
Research Graduates
all with no age bar can make their best career in Data Science.
So, what are the must-have skills to get started with Data Science?
Maths & Statistics
Analytics & Modeling
Great Programming
Data Visualization
Excellent Communication
Intellectual Curiosity &
Machine Learning Know-how
Are you looking to make a similar transition to a Data Science career? Then you must check this.
Conclusion
So, can I become a Data Scientist? Well, yes! Anyone who is willing and ready to invest his/her time and energy can become a good Data Scientist.
Any queries? Feel free to comment to us below. Wish to take up a free consultation and then make a decision? Just drop your phone number and then receive a call from us shortly.