Are you wondering how to become a skilled Full Stack Developer? That also just in 3 months?
Do you often wake up with a dream of leading the corporate as a successful Full Stack Developer? Do you wish to be a developer who can effortlessly handle all the operations of databases, servers, systems engineering, and clients? 
If you nodded your head in an assertion to all the above questions, then we have something for you below.
What is Full Stack Development?
A group of programming languages and tools that the developers implement to handle a website is called the Full Stack. It refers to both the front-end and back-end development of a website.
As a Full Stack Web Developer, you would have to pace up from being an individual
Testers,

Front-End developers,

Back-End developers, or

Database administrators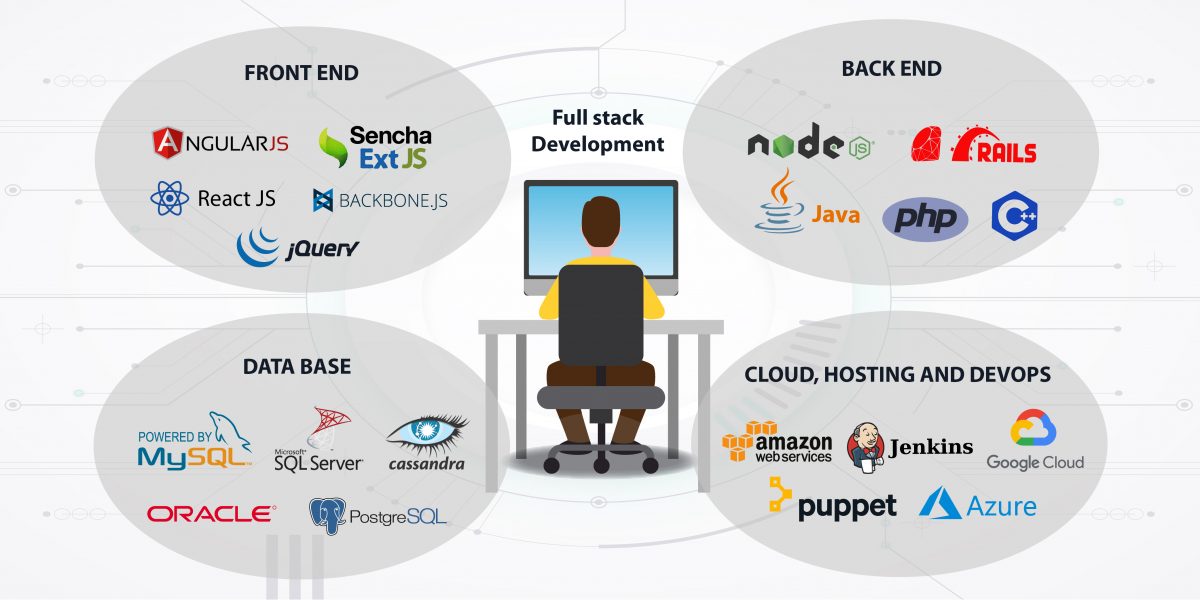 And become one responsible individual with all-in-one skills needed. It is always advisable to gain expertise in these courses one at a time and then move ahead with others.
Undoubtedly, Full-stack development is a rapidly growing domain for developers. Wherein you would have to upskill your portfolio into the above responsibilities, step-by-step. JavaScript Full Stack Developer profile is the most sought Full Stack Developer career. 
Along with Front-End, Back-End, and Database Management, a Full Stack Developer course will upskill you on other essential technologies and enlighten you on more or less everything about Debugging and Version Control. So, a Full Stack Developer can individually develop web applications. For example, Netflix, Amazon, WordPress, etc., from scratch and deploy the same.
All that said, the question of how to become a Full Stack developer in 3 months remains unanswered, right? So how to proceed towards gaining the required skills?
Here is the ultimate guide towards achieving a bright career in Full Stack Development.
Eligibility Criteria to Become a Full Stack Developer
Any beginner with a high school qualification is good to start the Full Stack Development course. On the other hand, working knowledge of HTML and CSS is an added advantage. Most importantly, earning a full-stack developer certificate will benefit you by leaps and bounds throughout your career. Immaterial of whether you are a college graduate looking to add projects to your account or a working professional trying to brush up with multiple skills.
Quality Time to be Invested
Around three months is a good enough time to add the star of Full Stack Developer to your collar. Similarly, if you wish to pursue either a Front-End Developer course or a Back-End Developer course alone, then you must check this out.
Above all, developing a platform like Netflix is a considerably great achievement. Netflix is a premium video streaming platform. It offers services to more than 500 million users around the world. Netflix provides a wide variety of videos to stream from its website. So, let us get started.
To be a Full Stack Web Developer like that, you need to choose from an array of technologies. These technologies range from the Front-End, Back-End, and through the database. Acquiring the programming knowledge, and helping you to handle frameworks across all the levels of database creation, implementation, and deployment is quintessential.
What is Front-End Development?
The development at the visible portion of any website or mobile application that the user directly interacts with is called Front-End Development. So above all, improving the aesthetics of the website or application while keeping the user experience easier should be the real goal of a Front-End developer.
Speaking about a web app like Netflix, a front-end developer should take the UI to present a user-friendly experience. Furthermore, providing the best efficiency is quintessential.
Requisite Languages & Libraries
The languages majorly consolidating Front-End Development are HTML(Hypertext and Markup language), Javascript, and CSS(Cascading Style Sheets). React.js and Bootstrap are efficient Front-End frameworks and Libraries. Wish to try your hands on these, then click here. You get a chance to learn it while you practically do it!
What is Back-End Development?
A Back-End Developer basically focuses on server-side development. Enhancing the functionality of the website from the back-end remains the main target. Front-end development is significant since it focuses on delivering a better user experience. On the other hand, Back-End Development is equally vital because it is accountable for managing the APIs by client-side commands and database via queries.
For instance, as soon as you log into Netflix, the Back-End retrieves data from the database server. This data showcases personalized recommendations based on your interests and past viewed history.
Back-end developers code the logic for the data presented. They form an integral part of the implementation of the functionality.
Requisite languages
Back-end development often comprises languages, frameworks, and libraries like Javascript, Node.js, Python, etc. As Steve Jobs has rightly said, 
"Design is not just what it looks like and feels like. Design is how it works."

So go ahead and make it all work! Try this.
Know More About Databases?
Creating, maintaining, organizing, augmenting, and retrieving data within the databases are all significant ways of Data Management, which the modern Digital world is thriving on, after all. So as a Full Stack Developer, playing your best cards with databases is vital.
Three NoSQL tools viz. SimpleDB, HBase, and Cassandra create the database of Netflix. That said, database management is another skill that is in plenitude platforms in multifold dimensions.
Requisite languages
Oracle, MongoDB, and SQL are the most common languages you will come across in Database Management. Building and managing databases is one of the most cutting-edge skills required in many fields, and preferring to learn both is also advisable to take it forward. At Guvi, Zen Classes offers comprehensive MongoDB courses and MySQL courses. 
Window to DevOps and the Cloud
We can barely ignore the digital transformation around the globe. That said, the ever-growing list of Cloud projects and their connected identities with DevOps is seemingly high these days.
The services of Netflix are all migrated to the cloud. Netflix has open-sourced substantial portions of its platform that accommodated this. DevOps at its core is the automation of agile methodology. It is closely related to process and process development. In the same vein, cloud computing sells all about technology and services, and developers at every stage need to have a grasp on both. Full Stack Development courses also claim to imbibe their technical knowledge.
Career Opportunities as a Full Stack Developer
Full-stack Stack Developers endure an attractive career with high perk salaries and valued opportunities. With expertise in many cutting-edge technologies, Full Stack Developers are hugely in demand for their adaptability and ability to manage any project with more efficiency. Full Stack developer salary can vary on the skills and experience. Ideally, a person with around 3 years of experience in full stack development can earn anywhere more than 12L/ annum and more.  
How to get hired in top companies like PayPal, Zoho, Tata Communications, StackUp, OrangeScape, ChargeBee, and Clayfin? Click here to find out. 
Wrapping Up
Well, all that speaks to the advantages of the Full Stack Development courses and the super opportunities that await you after pursuing them. If you feel the urge to take up the developer courses at any point in time, feel free to check Guvi. It is the place where you can take up any technical course in your native language. Now, that is incredible!
Yes, at Guvi, you can learn to code, practice the same, and excel with assignments. Above all, company experts mentor you! You also exercise the legacy of 100% placement support from the team. So, with the Zen Classes, you can become a company-ready Full Stack Developer within three months. Upgrade yourself with the skills that will prove you qualified for any job.
Happy Coding!
Is it realistic to become a full-stack developer in just 90 days?
Becoming a proficient full-stack developer typically requires a solid foundation in both front-end and back-end technologies, as well as practical experience in building applications. While it's possible to learn a lot in 90 days, achieving mastery in such a short time frame might be unrealistic for most people. Many professionals take years to become truly proficient due to the complexity and breadth of skills involved. However, if you have prior programming experience, are highly motivated, and dedicate a significant amount of time to learning and practicing, you can make substantial progress in 90 days.
What should I focus on during the 90-day period to become a full-stack developer?
During your 90-day journey, it's essential to focus on key technologies and concepts. Start by learning a popular front-end framework like React, Vue, or Angular for building user interfaces. Simultaneously, gain proficiency in a back-end language like JavaScript (Node.js), Python, Ruby, or PHP, and learn about server-side frameworks like Express, Django, Ruby on Rails, or Laravel. You'll also need to understand databases (SQL and NoSQL), version control (Git), and basic deployment processes. Keep in mind that full-stack development involves ongoing learning and adaptation, so use this period to build a strong foundation that you can continue to build upon.
What resources are available to help me become a full-stack developer in 90 days?
There are numerous online resources available to aid your learning journey. Consider using platforms that offer comprehensive courses on various full-stack development technologies. Online coding bootcamps, such as Le Wagon, App Academy, and General Assembly, offer immersive learning experiences designed to help you become a proficient developer in a short time. Additionally, exploring open-source projects, participating in coding communities, and building your own projects are excellent ways to solidify your skills.