Before jumping into the list of the top 10 ethical hacking books, let's speak a bit about cybersecurity. I'm sure you already know "what cybersecurity is" but here's a refresher. Cyber security refers to the practice of protecting networks, programs, computer systems, and their components from unauthorized digital access and attacks.
Now that's a huge number speaking of hacking, let's define the term "Ethical Hacking" before diving into the books for it. So when a system's vulnerabilities are discovered and exploited to ensure system security, it is known as ethical hacking & people who carry this out are termed, ethical hackers.
Ethical hackers perform hacking with prior permission from the concerned authorities. In order to perform this and carry out penetration testing various hacking techniques and tools are used. Now let's go ahead and have a look at how books can help you learn to hack.
This Blog aims to familiarize you with hacking on the whole. The Ethical Hacking Books listed below will introduce you to new ideas and help you solve problems. Reading in general is great as it helps with your thought process and keeps you mentally alert. It is important that you use the information in the upcoming books only for lawful purposes. So let's get started and see the best books that can help you with hacking.
SIDENOTE: GUVI unveils its most comprehensive ethical hacking course bundle, including some of the most popular and bought-out hacking courses that will help you start from scratch and take you to advanced-level hacking skills. Learn Hacking with bite-sized tutorial videos.
1. Basics of hacking and penetration testing by Patrick Engebretson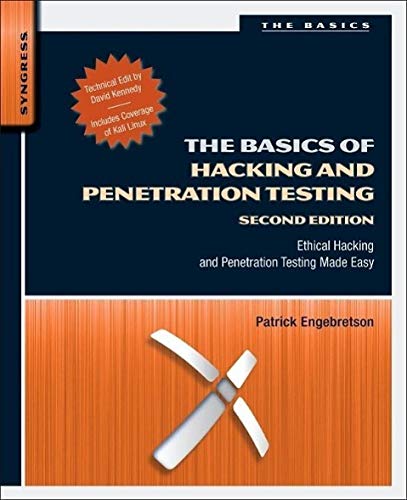 The first book we have is about the basics of hacking and penetration testing. This book is written by Patrick Engebretson. For all your beginners out there if you're clueless about how to go about hacking then this is a good read. Having said that this book is not just for beginners but even for those individuals who are only exposed to superficial penetration testing logic.
This book dives deep into the tools and processes used often by penetration testers to gain access to the systems. The basics of hacking and penetration testing book will help you achieve a better understanding of offensive security as well. You'll be acquainted with various phases of ethical hacking here.
The book contains seven chapters and it focuses on hacking tools such as backtrack, Linux, Google reconnaissance, Nmap, Nessus Metasploit, and hacker defender rootkit to name a few. The fun part is that each chapter consists of hands-on exercises that help you interpret and implement results in each phase. The book is apt for students beginning their careers as infosec professionals and security consultants. Visit this link to access the pdf version of this book for FREE.
2. Hacking: Beginner's Guide to Computer Hacking, Basic Security, Penetration Testing by John Stark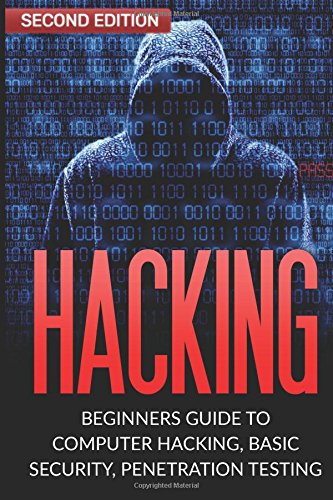 The second book we have on our list is: Hacking a beginner's guide to computer hacking, basic security, and penetration testing. It is written by John Stark. This is yet another go-to book for beginners. This book can be your first step to a career in ethical hacking. It will cover all the basics with respect to hacking security and pen testing.
The topics covered in this book are the history of hacking types, various types of hacking attacks, basic hacking tools and software, and hiding IP addresses. In Addition, It also speaks about mobile hacking, hacking an email address, penetration testing, and spoofing attacks.
3. Hacking: The Art of Exploitation by Jon Erickson
Up next we have: Hacking the art of exploitation. it is written by Jon Erickson. this book has two editions one of which was published in 2003 and the other in 2008. This book is famous for the hacking approach it teaches, it mainly focuses on network security and computer security.
Unlike other books, It helps you understand how to develop exploits rather than just using them. If you want to level up your ethical hacking game then this book definitely requires a read.
Its second edition introduces you to C programming from a hacker's perspective. Out of the plethora of concepts that you will learn in this book few crucial ones are that you will learn to program computers using C and Shell Scripts. You will also be able to outplay security measures like intrusion detection systems. Having said that you will also learn to hijack TCP connections, crack encrypted wireless traffic, and speed up brute force attacks. Visit this link to access the pdf version of this book for FREE.
4. Kali Linux – An Ethical Hacker's Cookbook
Let's now have a look at the next ethical hacking book on our list: Kali Linux – An Ethical Hacker's Cookbook. Just like the name suggests, this book revolves around Kali Linux, and it is written by Himanshu Sharma. Kali Linux is primarily used for advanced penetration testing and also for security auditing.
It contains numerous tools that are geared toward various security tasks such as security research penetration testing and so on. The book will help you get started with the installation and configuration of Kali Linux which will enable you to perform your tests. In addition to that, you will learn to perform web application exploitation using tools such as Burp Suite.
You will also be acquainted with performing network exploitation using Metasploit and by a shark. Lastly, you will know how to conduct advanced penetration testing. These are a few of the concepts you will be learning besides a lot more others in the book.
5. Metasploit: The Penetration Tester's Guide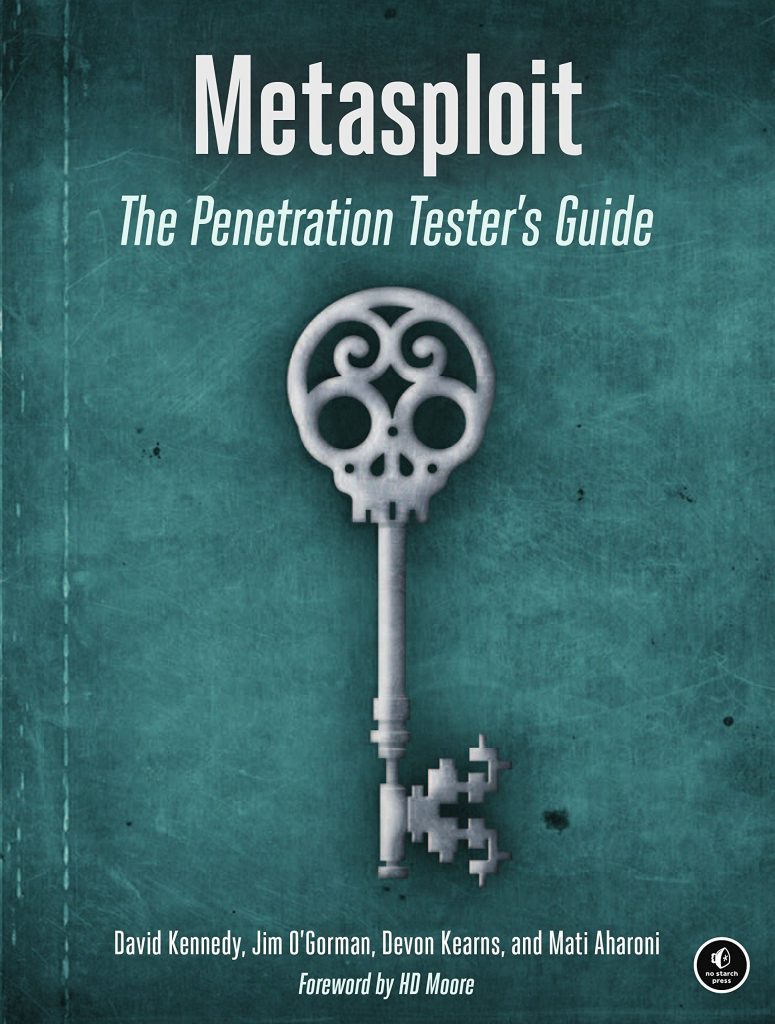 At number 5 we have Metasploit: The Penetration Tester's Guide. This book is written by four authors: David Kennedy, Jim O'Gorman, Devon Kearns, & Mati Aharoni. The Metasploit framework is a powerful tool for hackers to exploit IP addresses and ports in it. this framework makes discovering and exploiting vulnerabilities easy but for first-time users, it can be a little tricky. Hence this book will teach you all about Metasploit.
You will learn the frameworks interfaces, module systems, and more as you launch simulated attacks. After which you will move on to advanced penetration testing techniques which include network reconnaissance, client-side attacks, wireless attacks, and targeted social engineering attacks. You will also learn to integrate Nexpose, and Nmap analysis with Metasploit to automate discovery.
6. Penetration Testing: A Hands-On Introduction to Hacking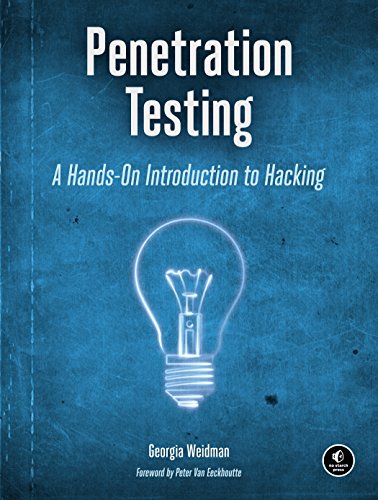 Up next we have: Penetration Testing: A Hands-On Introduction to Hacking. This book is written by Georgia Weidman, As the name suggests this book shows insight into penetration testing.A penetration tester discovers security weaknesses in operating systems, networks, and applications penetration techniques are used to gauge enterprise defenses.
The book focuses on the core skills and techniques a penetration tester requires. Here you'll go through the prime stages of an actual assessment which includes gathering information, unraveling vulnerabilities, gaining access to networks, and so on. In addition to the above, you will learn to crack passwords with the techniques of brute forcing and word lists, bypass antivirus software, automates attacks and you will also learn to use the Metasploit framework for launching exploits and for writing your own Metasploit modules out of the many other learnings. Visit this link to access the pdf version of this book for FREE.
7. The Hacker Playbook 3: Practical Guide to Penetration Testing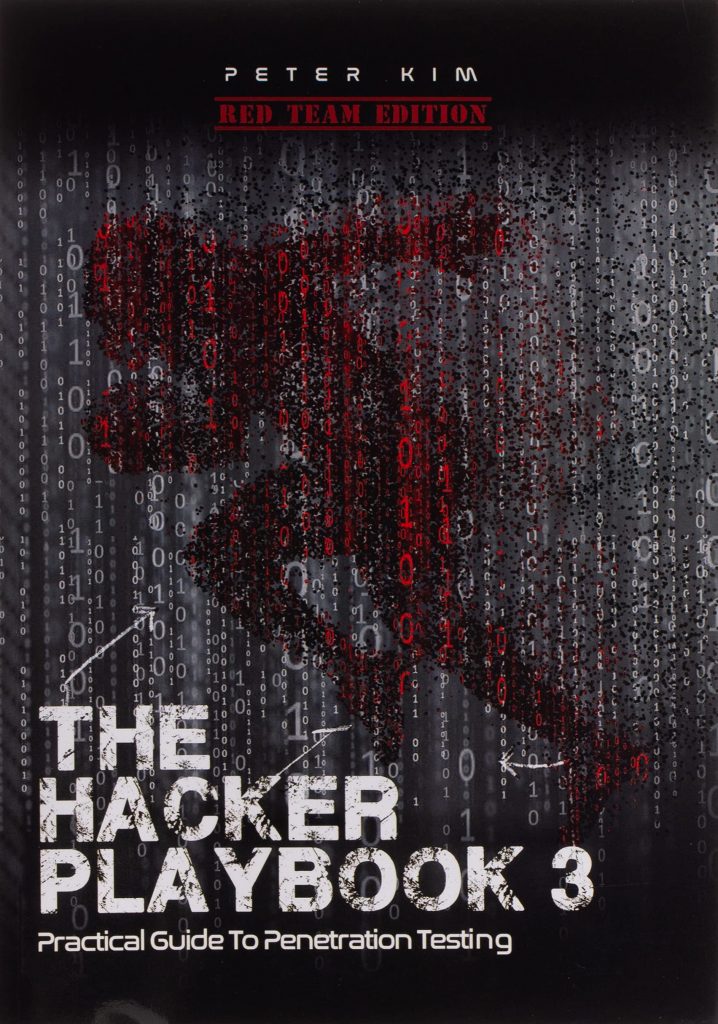 Moving forward in our list of Top 10 Ethical Hacking books, we have The Hacker Playbook 3. The Hacker Playbook 3: Practical Guide to Penetration Testing is written by Peter Kim. You can guess that this is the third iteration of the hacker playbook series. It brings with its new strategies, attacks exploit tips, and tricks. Besides all the new concepts it also highlights a few techniques from the previous versions. Many schools & platforms have this book incorporated into their teachings.
The Hacker Playbook 3rd Edition acquaints you with the Red Team. Red team simulates real-world advanced attacks to test your organization's defensive teams. A red teamer will accurately test and validate the overall security program.
Reading the hacker playbook 3 will help you advance your offensive hacking skills and attack parts. In addition to that, it also focuses on real-world attack exploitation, custom malware persistence, and more. This heavily lab-based book will incorporate several virtual machine techniques and custom hacker playbook tools.
8. Black Hat Python: Python Programming for Hackers & Pentesters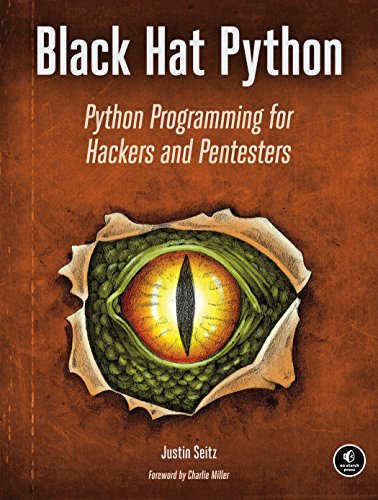 At number eight we have black hat python: python programming for hackers and pen testers. Justin Seitz is the author of this book. As you know python is a very strong programming language and it comes to great use when creating powerful and effective hacking tools.
Python is the chosen language by many security professionals across the world and many exploit frameworks are written in python. In this book, you will go through the darker side of python's capabilities like infecting virtual machines, writing network sniffers, creating trojans, etc
The book covers some networking fundamentals, interesting network tooling, web applications, windows privilege escalation tricks, and more. This book as the author says is a fun read & suggested for those who want to incorporate Python Programming in their offensive mode. Visit this link to access the pdf version of this book for FREE.
9. The Web Application Hacker's Handbook: Finding and Exploiting Security Flaws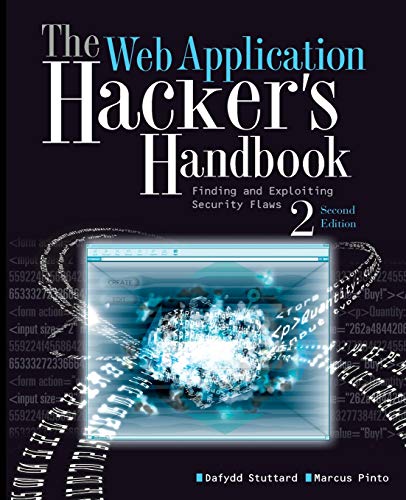 Moving on to number nine, we have The Web Application Hacker's Handbook: Finding and Exploiting Security Flaws. It is written by Dafydd Stuttard and Marcus Pinto. This second edition focuses on updated web applications, exposing them to attacks and executing fraudulent transactions.
The Web application hackers' handbook is updated to speak about the latest step-by-step methods for attacking and defending the large range of ever-evolving web applications. It also discusses new remoting frameworks, HTML5, UI redress, and Hybrid File Attacks to name a few.
It looks into attacking authentication, attacking the application server, finding vulnerabilities in source code, etc. If you have already mastered the first edition you can focus on new concepts in this one. Visit this link to download the pdf version.
10. Web Security Testing Cookbook: Systematic Techniques to Find Problems Fast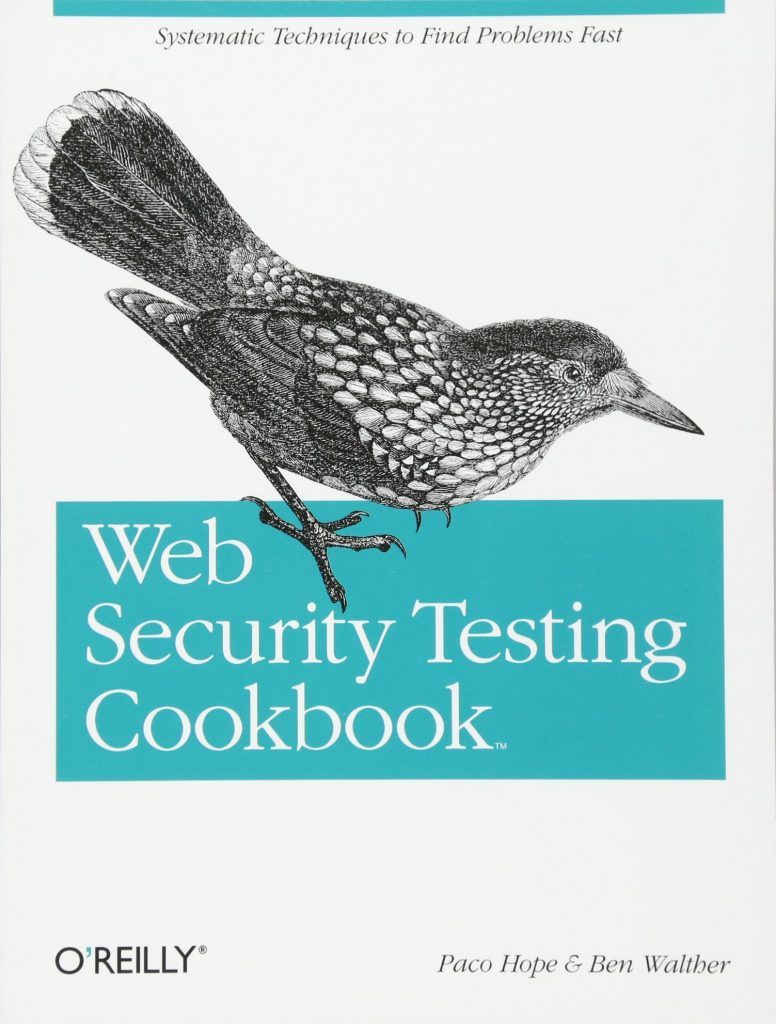 Now let's head to the last book on our list of Top 10 Ethical Hacking Books. At number ten, we have Web Security Testing Cookbook: Systematic Techniques to Find Problems Fast. The author of this book is Paco Hope & Ben Walther. Security testing is quite often a neglected one when it comes to the tests performed on web applications but it is a very crucial one.
The book teaches you how to check for the most common web security issues, it also acquaints you with installing and configuring free and good security testing tools. You will also understand how your application communicates with users and this book will help you build tests pinpointed at AJAX functions and help you automate the tests. With the knowledge of this book and the free tools used here, you can defend your site. Download in PDF.
Conclusion
So those were our concluded list of top 10 ethical hacking books. Do you agree with our list? Or did we miss something? Feel free to share your suggestions and reviews in the comments.
Now that you had a look at the books let's move on and see how GUVI can help you become an ethical hacker. GUVI provides a certified Ethical Hacking course Bundle, the certification training course provides you with hands-on training that will help you master the techniques used to penetrate network systems and defend your system against them.
Our Ethical hacking courses bundle is aligned with the latest industrial practices. Here you will learn about the trojans, back doors and countermeasures, ids, firewalls and honeypots, cryptography, and DarkNet & all advanced hacking concepts that are eminent to your White Hat career Journey. The Course bundle is available for just ₹999 and offers a structured vetted curriculum & self-paced video tutorials to help you get started with Ethical Hacking.
FAQs
1. Why should you choose an Ethical hacking course?
We understand that for some people reading is daunting. That's why we have accumulated the best practices from the above book in bite-sized tutorial videos, that can help you achieve the same result with better retention. Cybersecurity and Ethical Hacking is a growing fields, and companies are constantly looking for White Hats who can take countermeasures and protect their interests. Start your ethical hacking journey with GUVI today!
2. What are the different types of Ethical hacking?
There are basically 5 types of Ethical Hacking which are:
White-Box Testing
Grey-Box Testing
Black-Box Testing
Hacking Wireless Network
Web Application Hacking
3. What is the best book to learn about Ethical hacking?
There is no such best book to learn about Ethical hacking. Different books serve different purposes. It primarily depends on your level of expertise and categorized niche of expertise. Although if you are looking for a complete overview, we suggest you go for second book in the list given above.