Businesses that run online on websites & apps highly thrive on UI UX, as it creates a positive user experience & encourages its customers to stick with a brand or product.  And there is evidently growing demand for UI/UX designers.
According to Statista report, by the end of 2023, there were around 3.5 million apps on the Google Play Store and 1.6 million apps on the Apple App Store. This clearly indicates the demand for UI/UX designers in the digital world. How can you ace the title of UI UX designer? Read further to find the essential skills that serve as stepping stones to get started in UI UX.
Skills Required to Become a UI UX Designer
1. User Research Skills
For designing a product that meets the needs of a user, & resolves the problems of a user, or a product that catches the interest of a user, you will need to understand that user first. Here, user research becomes quite important for that. 
Similar to data analysts, UX designers primarily focus on collecting & analyzing the qualitative & quantitative data related to the prospective users.
Understanding this data will help you determine if your designs are meeting the needs of the users. This takes shape towards better designs.
2. Usability testing Skills
This is similar to a trial & error method, where the UI UX design is tested by a group of representative users. The main process involves observing users as they try to complete tasks that can be done for different types of designs. Upon repeated observations of various designs conducted, it gets easy to figure out which design works well for users. And, the best design is chosen at the time of product release.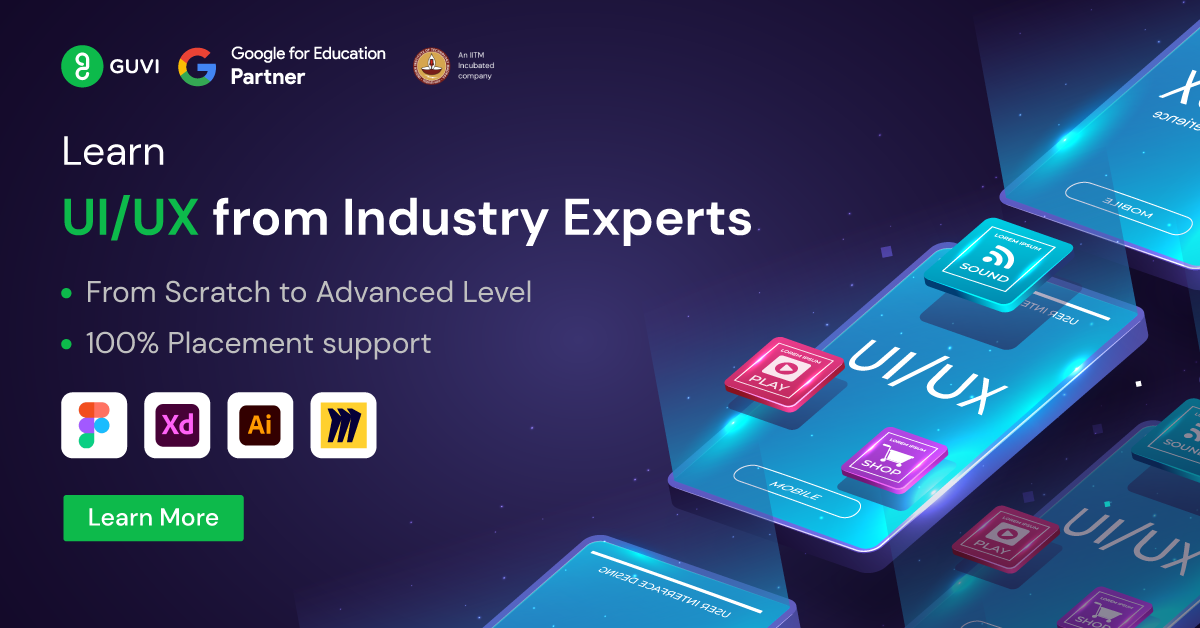 3. Focus on Prototyping & Wireframing
Prototyping is the fourth phase of the five phases of design thinking & design sprints. While the design thinking process is categorized into five phases: Empathize, Define, Ideate, Prototype, and Test.
Prototyping comes after Ideation, which means the creation of a prototype after the shortlisted ideas that can solve the users' needs. Why are prototypes important in UI UX? Simply because Prototypes not only generate feedback from the team members who review the product design but will also help the UX designers to present the stakeholders with how the final product would look and function.
Next is wireframing.
A well-designed UI UX design is one with a well-outlined wireframe. Wireframe creation is a process to draw overviews of interactive products or page layouts of websites to establish the structure & flow of possible design solutions. Wireframing will highlight & lowlight the features of a product & helps us understand how features of a product can be displayed visually.
Furthermore, a proficient UI UX designer should have the ability to draw diagrams of UI elements like CTA buttons, illustrative images, and menus.
4. Develop UX Writing Skills
Don't confuse UX writing with Copywriting! Let's understand the difference between the two. Well, UX writing is meant for existing users and copywriting is meant for customers/prospective users. UX writing is product-oriented writing that guides the users to meet their needs or solve their problems by means of the product. While a copywriter proceeds with a sales-oriented or market-oriented approach to attract customers. The website navigability & overall experience by a user hugely depend on the UX writing of a UI UX designer.
Also Read: Top 10 UI/UX Project Ideas for Beginners
4. Visual Communication with Design Software
User experience is not just about the website's appearance or the feel it gives. Even small icons make a big difference, say, a camera icon will convey that it is meant to upload pictures upon live click. So, It becomes important to have a solid grip on Viscom skills for effective usage of images, icons & graphics to create a message & connect with the audience. Figma is the most popular visual design software that UI UX designers prefer among other design software technologies like Sketch, Photoshop, and Illustrator. Figma is widely chosen for its strong support in versioning & file management.
Also, a good level of specialization is required in icons, color theory, layout, typography, & general design.
5. Build Information Architecture
One of the crucial aspects of UX is to organize & divide the content on a website or app. Information Architecture primarily focuses on structuring digital content in a way that guides users to meet their needs. This IA makes it easy for users to find the information that they need to meet their needs.
If you have a keen eye for detail, aesthetics, and colour theory, & If you're driven by the idea of giving a flawless experience on impressive interfaces for users on websites/apps, then go for a professional career in UI/UX. Join Zen Class UI/UX Design Program & Stay assured throughout the Upskilling Journey with 100% Job Guaranteed Support.
Also Explore: UI/UX Syllabus | Complete Curriculum 2023