Power BI development is the new rage in town. Business intelligence has become the backbone of the modern marketing and consumer industry.
Consequently, the need and importance of making analytics accessible to everyone have multiplied manifolds.
Who's better to achieve this than a Power BI developer? Well, if you're interested in becoming one, I've got you covered.
This article would answer all your questions regarding Power BI Developer roles and responsibilities, salary, scope, and ways to become a Power BI developer.
First things first, if you're new to the Power BI world, let's learn a few basic things about it.
What is Microsoft Power BI?
Microsoft Power BI is an innovative business intelligence software included with the Microsoft Power platform. It allows the user to link all their data sources in one place and perform interactive data visualization activities on the collected data.
The application helps generate graphs, reports, analytics, and various results through which businesses can make informed decisions for growth. The cloud-based platform allows easy data sharing and collaboration within the organization for collective working and meaningful insights.
Users can create customized dashboards for their specific needs. They can also embed the application with other websites, software applications, portals, etc. for real-time, optimized data visualization. One can also automate the processes through Power BI.
Here comes the role of a Power BI Developer. Let's explore how.
What is Power BI Developer?
As a Power BI Developer, your job would be to process raw, unrelated data from various sources to develop and create comprehensive insights to drive useful business decisions.
As discussed above, they would develop user-friendly dashboards for the organization and end-user and automate data sourcing and modify data models.
A Power BI Developer's job would require them to work on Power BI Desktop, Power BI Mobile, and Power BI Services along with various SaaS APIs to truly customize the platform's experience to fulfill the company's needs.
Let's learn about Power BI Developer Roles and Responsibilities in detail.
Power BI Developer: Roles and Responsibilities
Power BI developers have a lot going on when it comes to their day-to-day jobs. They have to ensure full accountability of the BI tools and administration.
Here's what a Power BI Developer Job Description looks like:
Understand your company's data and business intelligence needs.

Design, build, maintain, and map data models to process raw data from unrelated sources

Analyze the KPI for the company and create a KPI scorecard.

Create interactive reports and attractive, well-functioning dashboards through the Power BI platform

Run functions and queries from DAX (Data Analysis Expressions to access and process data on Power BI Desktop.

Create, analyze, and publish Power BI reports as per the requirements.

Analyze previous and current datasets to extract trends to direct strategic decisions

Transform complex data into easily understandable insights.

Access various data channels to automate the process of extracting, connecting, and bringing them together to extract business insights

Convert business needs into technical documentation

Sync Power BI reports with other applications, websites, and workspaces by implementing Embedded Analytics and related APIs.

Create multi-dimensional data models that are well-adjusted data warehousing practices.

Execute security at the row level in the Power BI application with an apt understanding of the application security layer models.

Handle design methodology and document projects.

Document data about algorithms, analytics models, and parameters.

Maintain service report models and their analysis.

Run detailed analysis on the existing and tested Power BI models.

Make technical and customized strategic changes to the platform per organizational requirements.

Continuously define and design new system attributes for targeted business intelligence activities.

Create personalized graphs, charts, and reports for specific needs.

Run SQL queries for better data handling.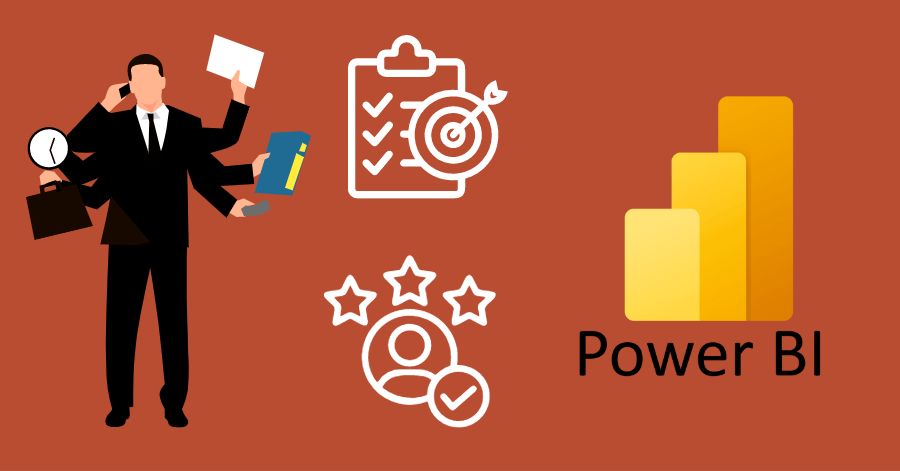 How To Become a Power BI Developer?
If your interests align with the above requirements, you are ready to become a Power BI Developer. All you need is a flair to read the market, a passion for playing with data, and the will to make it big in the business intelligence world.
Follow this basic Power BI Developer Roadmap:
Step 1: Get Started From Scratch
If you're unfamiliar with the world of data, you must start learning the basics of data analytics and get started with exploring Microsoft Power BI. You can start by checking out some videos and guides for basics online.
Step 2: Get Certified
Once you're aware of the basics, it's time to start learning Power BI seriously and get certified. Numerous portals provide online Power BI Courses that provide global certifications affiliated with reputed institutions.
Check out GUVI's self-paced Power BI Course that provides placement opportunities and global certification from IIT-Madras to help you get ahead in your Power BI journey.
Step 3: Portfolio Building
Now that you're all decked up, it's time to get ready for the professional world. A good portfolio is crucial to prove your skills for any potential job or internship opportunities. Start working on personal business intelligence projects or a small BI role.
Step 4: Start small and steady
Power BI developer roles are a little scarce at the junior/beginner level. You can still take up data analytics and market analytics roles or internships to hone your skills. Then you can take up bigger roles after a year or more.
Step 5: Take up Relevant Projects as Well
The main skills and knowledge of a Power BI developer and data analyst, software engineering, and other data-driven IT roles often coincide. So, you can do relevant projects in those fields to further prove yourself as a successful Power BI developer.
Step 6: Networking is the Key
It's way easier to grab a good job through referrals and networking. It works well for Power BI developers as well. Find and connect with people in or related to the analytics field and watch your career take off.
Skills Required to Become Power BI Developer
Now that you have figured out the Ways to Become a Power BI Developer, it's essential to focus on developing the right skills to become job ready.
Here are a few important Power BI Developer Skills that you must learn:
1. Past Experience with the Power BI platform: More you practice and use the platform, the more proficient you will be while working on it as a developer.
2. Data Analytics for the win: You should be able to analyze and present the data which can be understood by a layman. Show them the big picture and help them drive strategic decisions based on the reports you present.
3. Data Modeling knowledge: You need to know how to model data to make the most out of your data pool. Without this, any Power BI project would be unsuccessful.
Learn data analytics, modeling, and visualization skills with GUVIs professional Zen Classes.
4. Experience with data tools: You must have some knowledge of SQL queries, Python, JavaScript, etc. along with 2-3 years of experience with data management systems, data warehousing, and other key data processes.
5. Knowledge of Microsoft BI Stacks: You must be well versed with Microsoft Business Intelligence tools like SSRS, SSIS, and SSAS along with Power Pivot to get an edge.
6. Proficiency with Analytical Language or DAX: It's extremely important for you to learn and write DAX expressions to work as a Power BI developer.
7. Knowledge of Dashboard building, Security, and Deployment: You must know how to build interactive dashboards and know how security implementation in applications works. You should also be skilled in efficient model design and deployment.
8. Necessary non-technical skills:
Other than the above technical skills, you must have these soft skills to work well in the BI world:
Strong communication and collaboration skills

Ability to improvise and adapt quickie based on evolving business needs

Efficient multitasking and time management skills

Problem-solving approach combined with an analytical mind

Ability to liaison between technical units and business teams

Continuously upgrading and upskilling to stay updated with new developments

A team player

An inclination towards learning and practical application of knowledge.

Salary Structure of Power BI Developer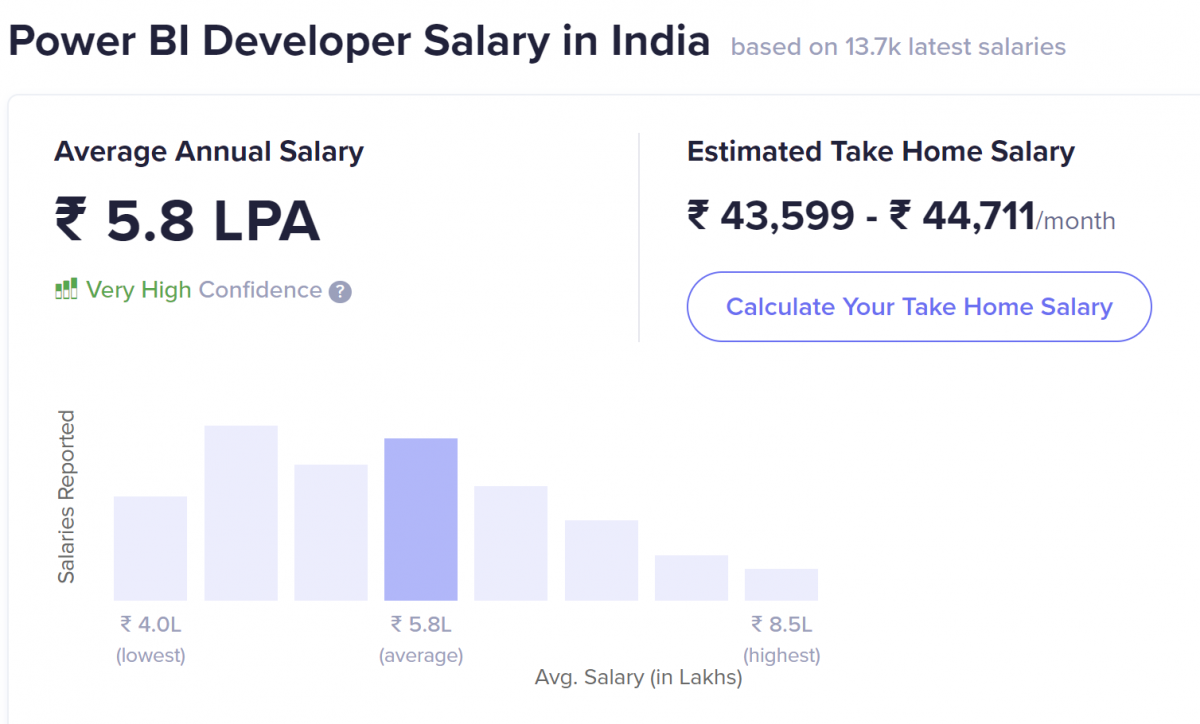 With several Career Opportunities for Power BI Developers opening up, the salary structure starts to vary with skills, experience, and expertise in the field.
As per AmbitionBox, Power BI Developer Salary in India ranges from ₹ 4 LPA to ₹ 8.4 LPA. While the average Power BI Salary is nearly ₹ 5.4 LPA. This means that the average per month salary for a Power BI developer ranges from ₹43,638 – ₹ 44,749.
With experience, a Senior BI Engineer could earn upto 28 LPA! The compensation also varies with designations.
Power BI Career Opportunities
The big number of Power BI Job Openings in India indicates that if you have the required skills, you can apply to many designations other than Power BI developer.
Here's a list of Power BI Careers to choose from:
Power BI Developer

Power BI Engineer

Power BI Analyst

Business Analyst

Power BI Software Engineer

Senior Software Engineer

Market Researcher and Analyst

Business Data Analyst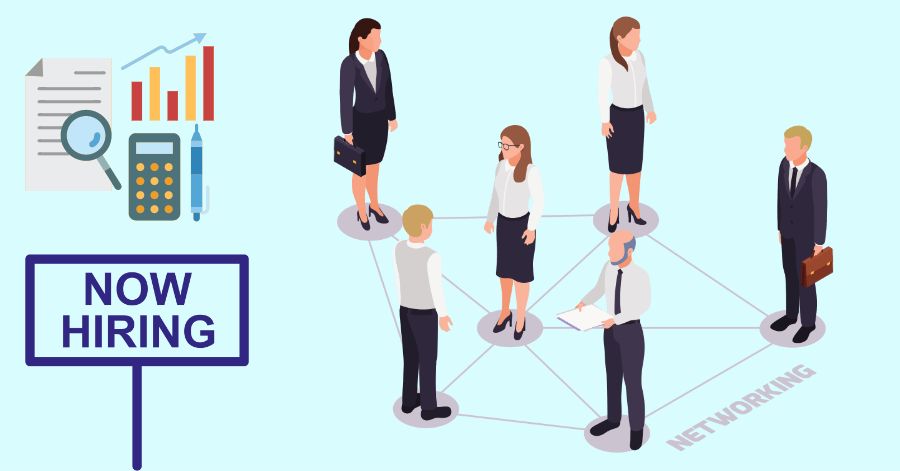 Top Companies Hiring Power BI Developers in India
After exploring the future scope of Power BI developers, it's clear that they are in demand. Today's data-driven world and companies of all scales heavily rely upon data visualizers.
Following are the Top Companies Hiring Power BI Developers:
Accenture

Dell Enterprises

Earnst and Young

Cognizant

Wipro

Hewlett Packard Enterprises

Deloitte

Capgemini

HCL Technologies

WNS

Bosch Group

Mercedes Group

Infosys

Indigo Airlines

Pepsico

UNICEF




Scope for Power BI Developers
Power BI has become a rage with most top businesses across the world. Thus, the scope for Power BI Developer has ever-widening horizons. Data has already become the biggest asset and currency in today's world. Hence the multiplying demand for analysts.
As per Markets and Markets, the Power BI job market could hit 33.3 billion USD by 2025 at a 7.6% in compound annual growth rate in the defined period. As per Lightcast, close to 325,510 jobs posted from 2021-2022 required Power BI skills. Currently, there are several Power BI Developer Career Opportunities turning up.
Naukri.com has 25000+ Power BI Developer Jobs listed on the platform. Similarly, LinkedIn features close to 10000 Power BI Developer Vacancies, with almost 500 jobs added in the past week. Similarly, Indeed, AmbitionBox and other job portals have plenty of Power BI Developer Roles up for grabs.
Conclusion
This is the age of analytics. Anyone who can harness the power of data and help companies wield it better would be sought often. If you're trying to become a Power BI developer, this is the right time.
You just need to learn the skill and practice it in more real-life situations to ride the high tide. We hope you could get a clear understanding of everything associated with Power BI Developer through this blog.
If you found this helpful, you could check out similar resources here.
FAQs
1. What does the day-to-day look like for a power bi developer?
The day-to-day work of a Power BI developer ranges from preparing, sourcing, and designing flexible data models for unrelated, raw data from various sources. 
They create customized dashboards and perform data visualizations to draw valuable business intelligence insights so that the stakeholders can make informed decisions.
2. How to become a Power BI Developer?
The basic steps to become a Power BI developer are:
> Learn about Power BI and spend time using it.
> Learn about data processes and work on data presentation.
> Start with a certificate course.
> Do personal projects.
> Build a dependable portfolio
> Take small roles or internships in relevant fields
> Learn, upskill, expand, and grow with the network.
3. Can I become a Power BI Developer without experience?
Yes. One doesn't necessarily need prior experience or a degree to get a Power BI Developer job.
If you have the required skills, internship experience, and a good portfolio of hands-on analytics projects in any capacity, you could land a job.
4. Is coding required to become a Power BI developer?
One can become a Power BI developer without coding as well. Although, people with a coding background and practical experience have a visible advantage in this field as its a technical field.