There is an old saying "Face is the index of the mind" and do you know what's current version of this saying is? It is "Resume is the index of the skillset". If you are someone who's interested in the field of cloud engineering, then it is mandatory for you to have a professional cloud engineer resume.
You may ask, why? Let's say, in this current competitive world, almost everyone has access to everything and you can easily persuade someone that you know everything but the world always needs proof for something that you say. And that's where a cloud engineer resume comes in.
It serves as proof of your knowledge and skillset and if you have made it in a proper and professional way, then you are ahead of the crowd. In this article, you'll learn about the contents that are important in a professional cloud engineer resume and read it till the end to understand it fully. So, without any delay, let's get started.
A Guide to Professional Cloud Engineer Resume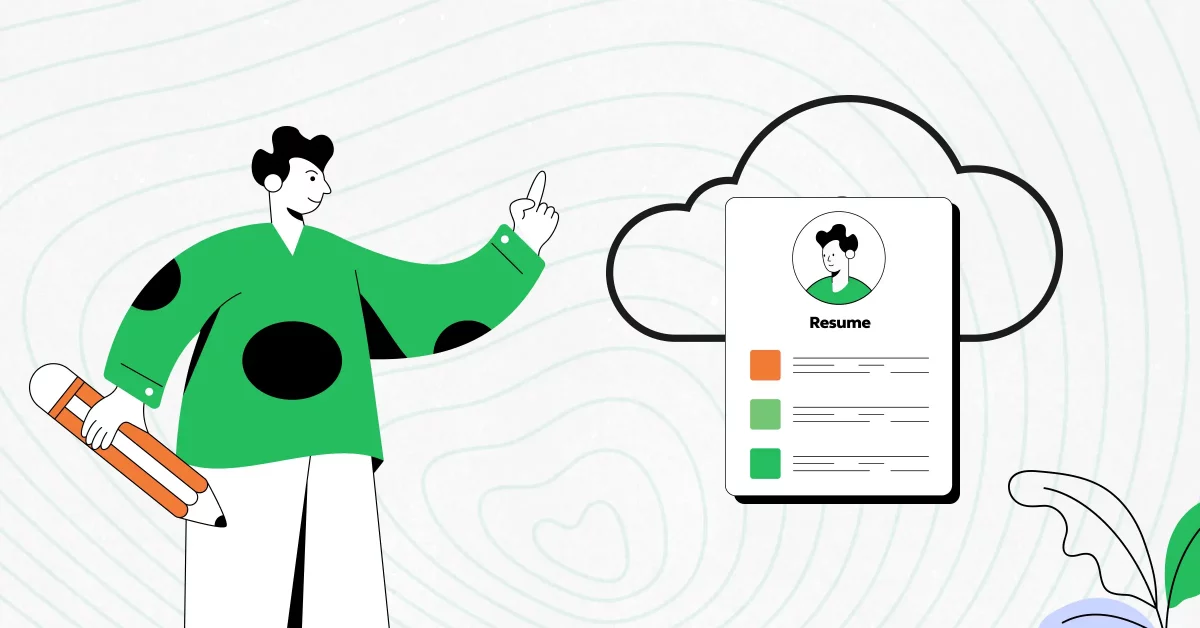 Creating a detailed and well-structured cloud engineer resume is crucial to effectively present your qualifications and experience. It is important to know about Cloud Computing before going through this resume as it allows you to understand the contents much more easily.
Let's break down the sections that are needed in a cloud engineer resume:
1. Contact Information
Begin your resume with your contact details, including your full name, phone number, email address, and, if applicable, a link to your LinkedIn profile. Additionally, mention your current location (city and state) to provide context to potential employers.
This is an important aspect that is applicable to any resume as this helps the employer to contact you easily so update your contact details on a regular basis.
2. Resume Summary/Objective
Your resume's introductory section should contain a concise but impactful summary or objective statement. In a few lines, emphasize your cloud engineering expertise, experience, and career aspirations. This statement should immediately capture the employer's attention and provide an overview of what you bring to the table.
3. Technical Skills
Dedicate a section to outline your technical skills relevant to cloud engineering. Enumerate the cloud platforms you are proficient in (e.g., AWS, Azure, GCP), programming languages you can work with (e.g., Python, Java), virtualization and containerization tools you are experienced with, automation and orchestration technologies, and any other pertinent technical skills.
4. Certifications
As I mentioned before, the tech world is becoming highly competitive and it is mandatory for you to undergo a professionally certified cloud computing course as that can really add value to your resume.
Mention the certifying authority and the certification's title, along with the date of achievement. These certifications serve as valuable credentials and demonstrate your expertise in specific cloud platforms and services such as Microsoft Azure.
5. Educational Background
Provide details about your educational background, including your degree(s), the institution from which you graduated, your graduation date, your high school and higher secondary background, and any noteworthy coursework or projects that relate to cloud engineering. This section establishes your foundational knowledge.
6. Professional Experience
This is a crucial section in a cloud engineer resume, showcase your work history in reverse chronological order. For each position, list your job title, the company's name and location, and employment dates (start and end), and if possible, give a glimpse into your key responsibilities and achievements. Describe how you contributed to cloud infrastructure design, deployment, maintenance, and optimizations, and specify the technologies and tools you utilized.
7. Projects
Showcase significant cloud projects you have participated in, even if they were not part of your official job responsibilities. For each project, provide an overview of the objectives, your specific role, the technologies used, and the resulting outcomes or benefits to the organization.
8. Achievements and Contributions:
In a cloud engineer resume, this section is the part where employers will judge one's capabilities. So, try to include any awards, recognitions, or notable contributions you've made to the cloud community.
This may include blogging, open-source contributions, or speaking engagements at cloud-related conferences or events. Such type of activities will boost your reputation among employers as that clearly signifies your commitment to the field.
9. Tools and Technologies
Create a section specifically for cloud computing tools, services, and technologies you are proficient with. This will signify your understanding of the subject. Be specific about how you've applied these tools in your work, emphasizing your hands-on experience.
10. Training and Workshops
If you've attended any relevant training, workshops, or industry conferences, related to cloud computing list them here. Demonstrating a commitment to continuous learning and professional development can set you apart in this competitive field and will make your cloud engineer resume stand out.
11. Languages
Mention the languages that you know as that can help the employer to put you in the right place of work. If you are proficient in any foreign languages, especially if you're targeting international roles, mention them in this section to showcase your linguistic capabilities.
12. Formatting and Design
Maintain a clean and professional format. Ensure consistency in font style and size throughout your resume. Use bullet points to enhance readability, and keep the resume to a reasonable length, typically one to two pages, focusing on the most pertinent and impactful information. Tailor your resume to match the job description for each application to increase your chances of landing interviews.
By following these guidelines and carefully tailoring your resume to the specific job you're applying for, you can create a compelling cloud engineer resume that effectively communicates your qualifications and experiences to potential employers.
Professional Cloud Engineer Resume Example
Now that you know everything that should be there in a professional cloud engineer resume, let us now see an example that suits the contents best:
Conclusion
In conclusion, a well-crafted cloud engineer resume can make all the difference in your career. Your resume serves as your first impression, a reflection of your expertise, and a key to unlocking the doors of opportunity in the world of cloud engineering.
By following the best practices mentioned in this article, you can put your skills, experiences, and ambitions on full display. Whether you're just starting your cloud computing journey or looking to take your career to the next level, remember that your resume is your ticket to success. So, make it shine, and let your potential employers see what they've been searching for through your cloud engineer resume.
FAQ
How should I format my cloud engineer resume?
Use a clean, professional format with consistent fonts and bullet points to enhance readability. Keep it to 1-2 pages.
What's the difference between a resume and a CV?
A resume is a concise summary of your professional background, while a CV (curriculum vitae) is a more detailed document, often used in academia and research.
What is a cloud engineer resume objective or summary?
It's a brief statement at the beginning of your resume that highlights your skills, experience, and career goals.
What technical skills should I include on my cloud engineer resume?
List skills related to cloud platforms (e.g., AWS, Azure), programming languages, virtualization, containerization, and automation tools.