MySql & MongoDB
What you'll learn
About Databases and its architecture
MongoDB
MySQL
2 Certifications – Individual certification for each course
Self Paced – 100% Online Learning
One year Access
Forum Support to clear doubts
Codekata – Gamified coding Arena
MicroARC – Quick Quizzes to enhance your skill
7 days Refund policy
What you'll get in this bundle?

Mongo DB
Mongo DB
18 Exclusive lessons
4 hrs

English
My SQL
My SQL
26 Exclusive lessons
4 hrs

English
Pre-requisites
No previous coding experience is needed
Description
MongoDB is a highly scalable, flexible and distributed NoSQL database, Learn to use and Build your future applications with MongoDB. Learn MySQL one of the most used SQL databases, It is used for a wide range of purposes, including data warehousing, e-commerce, and logging applications. The most common use for mySQL however, is for the purpose of a web database.
Job opportunities
After successful completion, you can get job as Sql Server Database Administrator, Database Administrator and much more.
Certificate
Certificate can be generated after completion of the course.
Certificate is generated for every course individually
Certificates are auto generated
CODEKATA
Get access to the platform that helps users to practise multiple programs that are curated by the experts from the industry. CodeKata involves the concepts of gamification and personalization with 1000+ problem statements.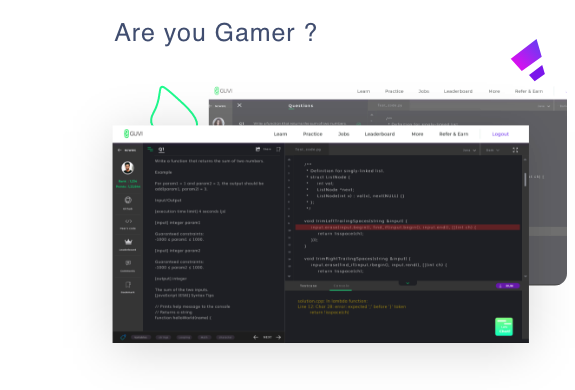 Arc Engine
Get access to MicroARC an AI powered self evaluation platform with a very huge question library. It is a standardised skill evaluation test that gives users the added advantage to self-evaluate themselves to know where they stand among their peers. MicroARC score is one of the main factors that recruiters look for in a profile.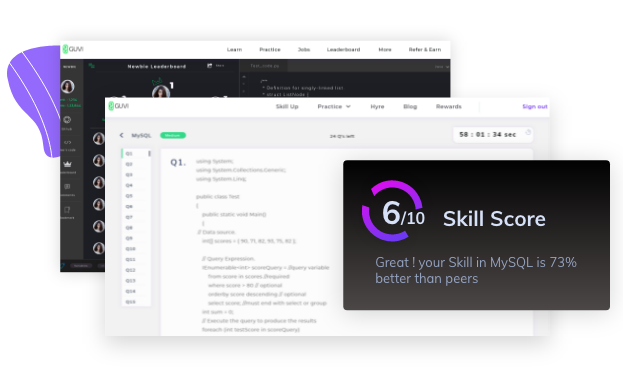 "I was new to programming, Python course in GUVI helped me to learn Python from basics. The videos were explaining the concepts very clearly and the Codekata platform made it interesting to spend time for learning."
"Interesting videos and way of teaching is very good. I could able to understand even advanced concepts with ease. It helped me to grow my skills as a developer."
"My friend referred me GUVI. Initially I thought it is yet another E-learning site, after taking course in GUVI and solved programs in Codekata it proved that is not just a learning site but a platform that can leverage the skills. Codekata programs are defined very good and the interface is really cool."
Frequently asked questions
For how long can I access these courses?
You can access all these courses for 1 year.
Is it 100% online learning or should I come in person for any specific course?
It is a 100% online learning course package and there won't be any necessity for you to be present in person.
What is the refund policy?
Customer satisfaction is our first priority. If you are not satisfied with the course, send a mail to
[email protected]
with the reason for refund and your feedback on the course with the subject line "MySql & MongoDB" , within 7 days of purchasing the course. Your refund will be processed immediately.
On what basis are the certificates rolled out?
The certificates are rolled out as and when you complete a course.
Will I gain access to any sort of Forum support?
Yes. You will gain complete access to our forum support to connect with our fellow aspiring users.
Apart from these courses, will I get access to any practice platforms?
You will gain access to CodeKata which is a gamified practice platform which hosts 1000+ curated coding problems and MicroARC, which is an interactive skill assessment platform which helps you to test your skills.