Description
The Step into Robotic Process Automation (RPA) course is intended to introduce RPA to students. The course assumes no prior knowledge of RPA. The course takes a use-case approach. It begins by defining a real-world, generic problem and how it's solved in a non-RPA environment. The course goes on to teach skills that enable the students to create a robot using free UiPath software (Academic Alliance Edition) to automate the solution. The course is aproximately 4-hours duration.
Verified certificate
Codekata – Gamified coding Arena
MicroArc – Quick Quizzes to enhance your skill
Self Paced – 100% Online Learning
Lifetime Access
Forum Support – Clear doubts at any point of time
Top skills you will learn
Basics of Robotic Process Automation
Identify processes which can be automated
Develop and deploy basic robots independently using UiPath RPA Platform (Academic Alliance Edition)
Pre-requisite
To understand and complete the course successfully the student must have basic knowledge of computers.
Job opportunities
Begin your Robotic Process Automation career with this course.
Step into Robotic Process Automation
Step into Robotic Process Automation
4 Exclusive Lessons
English
Certificate will generate only after successful completion of course
Certificate is generated for every course individually
Certificates are auto generated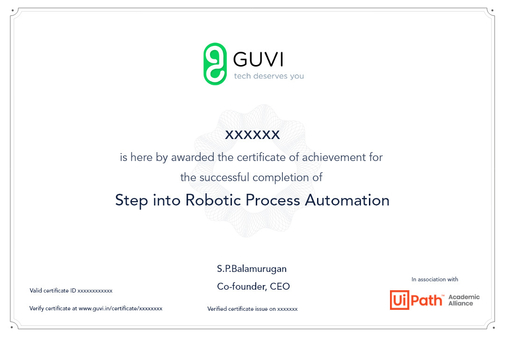 Through the Robot for Every Student initiative, your students can:
Develop skills to build their own robotic assistants to work faster and smarter, conduct research more easily by leveraging custom data sets, find financial aid, deals, and jobs
Create their own startup with automations at its heart.
Help the university automate manual processes
Develop in-demand RPA skills for a rewarding future.

UiPath is leading the 'automation first' era—championing a robot for every person and enabling robots to learn new skills through artificial intelligence (AI) and machine learning (ML). Through free and open training, UiPath brings digital era skills to millions of people around the world, improving business productivity and efficiency, employee engagement, and customer experience.
UiPath Academic Alliance works with leading universities, colleges and skill development bodies to create an automation-ready learning ecosystem, that meets the demand for new skills and better career prospects.
CODEKATA
Get access to the platform that helps users to practise multiple programs that are curated by the experts from the industry. CodeKata involves the concepts of gamification and personalization with 1000+ problem statements.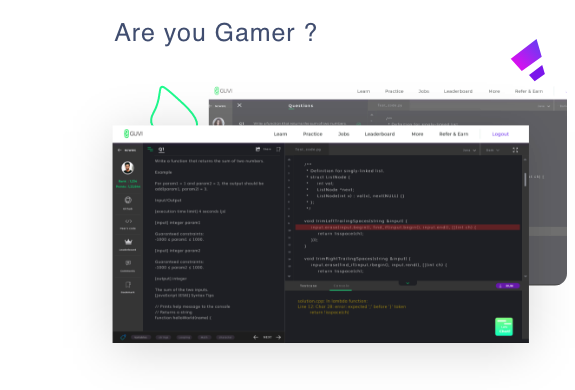 MicroARC
Get access to MicroARC an AI powered self evaluation platform with a very huge question library. It is a standardised skill evaluation test that gives users the added advantage to self-evaluate themselves to know where they stand among their peers. MicroARC score is one of the main factors that recruiters look for in a profile.