Overview
The Step into Robotic Process Automation (RPA) course intends to introduce RPA to students. The course assumes no prior knowledge of RPA and takes a use-case based approach. It begins by defining a real-world, generic problem and how it's solved in a non-RPA environment.
The course teaches skills that enable the students to create a robot using free UiPath software (Academic Alliance Edition) to automate the solution.
Top Skills you will learn
Understand the basics of Robotic Process Automation

Identify processes that can be automated

Develop and deploy basic robots independently using UiPath RPA Platform (Academic Alliance Edition)
Highlights
Self Paced – 100% Online Learning

Lifetime Access

GUVI Forum Support

Codekata – Gamified coding Arena
Who should Enroll
To understand and complete the course successfully the student must have basic knowledge of computers.

This course is intended for industry professionals and University Engineering students who want to acquire the skills of designing and developing robots for process automation.
Pre-requisites
To understand and complete the course successfully the student must have basic knowledge of computers.
Certificate
UiPath Certificate is available on a pay-per basis.

Certificates are issued by UiPath in association with GUVI.

Certificates are globally recognized & they upgrade your programming profile.
Testimonials
You will be lucky to find quality courses on GUVI. I must say that I was really lucky to get courses at such a low and discounted price. I got more than 9 hours of video and around 20 more resources to gain knowledge of programming. GUVI provides a wide variety of courses both technical and non-technical. I suggest GUVI is the best choice.
Midhun Devasia
What makes GUVI different is that it provides vernacular courses which make it easy to understand & practice platforms like CodeKata & WebKata, all these helped me improve my practical programming skills in the front end, back end. I highly recommend it if you want to get started with something new.
Arjun Govindan
I have opted for a combo-course that starts with the basics of the popular technologies and made me a pro in its domain... Codekata is very damn helpful to crack placements because it improved my efficiency in coding... we just need to be persistent and that's all it takes. I am very happy to encounter GUVI!
Pranav Mahadeokar
Why GUVI?
Guvi is an IIT-M , IIM-A incubated company located at IITM Research Park, Chennai. We help students master any programming skills so that they can learn and effectively practice the acquired knowledge and skills necessary to thrive in their career. Our feature includes practicing exercises, instructional videos, and a personalized learning dashboard that empowers learners to study at their own pace.
CodeKata
Get access to the platform that helps users to practice multiple programs that are curated by the experts from the industry. CodeKata involves the concepts of gamification and personalization with 1000+ problem statements.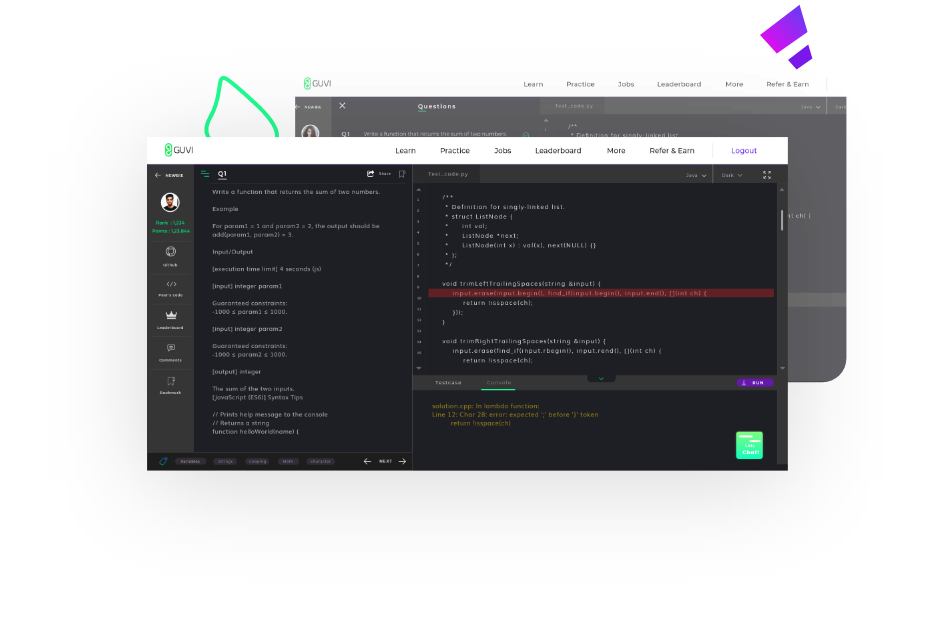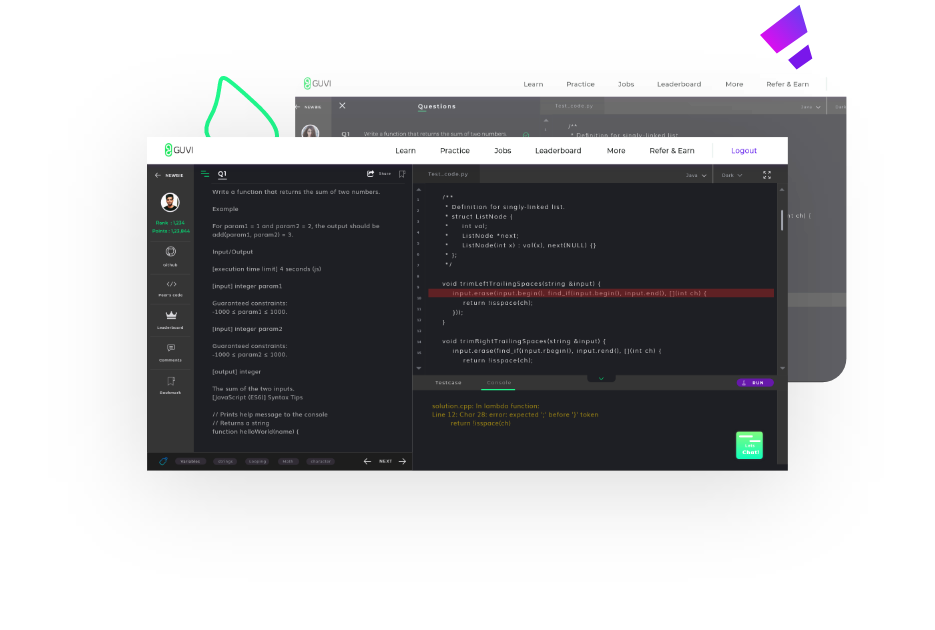 IDE
GUVI IDE is an Integrated Development Environment that lets you write, edit, run, test & debug your code. You can fix your code with the debugger supported by language like JavaScript, Python3 & Ruby. While, you can write code in 20 different programming languages.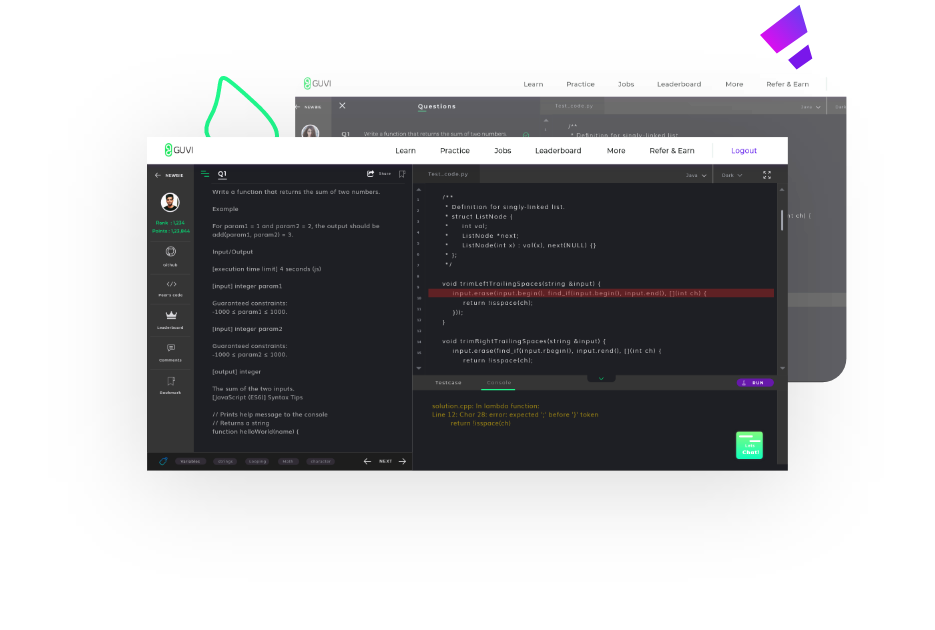 Frequently Asked Questions
Will I gain access to any sort of Forum support?
Yes. You will gain complete access to our forum support to connect with our fellow aspiring users.
Apart from these courses, will I get access to any practice platforms?
You will gain access to CodeKata which is a gamified practice platform which hosts 1000+ curated coding problems and IDE, which is an Integrated Development Environment that lets you write, edit, run, test & debug your code.
On what basis are the certificates rolled out?
UiPath certification is available for a nominal fee. If paid, you will receive an E-certificate through email as soon as you complete the course with 100% progress.
Is it 100% online learning or should I come in person for any specific course?
It is a 100% online learning course package and there won't be any necessity for you to be present in person.