Data Science is a booming field and it's obviously relevant to check out and compare how much you can actually make at an Entry-level data scientist position, primarily if you are working within MAANG companies. ( Meta, Amazon, Apple, Netflix, and Google (MAANG) are some of the biggest tech companies in the world. MAANG Formally FAANG, Facebook changed its entity to Meta.) Although anyone can look up the median and average salary of an entry-level data scientist with platforms like Glassdoor, PayScale & more, we will help and deconstruct them by factors such as company size, seniority, skill set, and others. So without wasting any time, let's dig in.
The Basics
Salary is a sensitive topic, and should it be?
There are a lot of good reasons why salaries should be transparent. It assists candidates in not wasting their time on opportunities that pay less than what they desire. Also, it shines a light on pay gaps between genders, racial groups, and other diversification. In the end, it helps employers contemplate if they are underpaid.
So let's start with simple entry-level data scientist salary numbers. According to Glassdoor, the starting salary for an entry-level data scientist in India is ₹8,19,099 per annum. It is a national average base pay. Does that mean, that you're guaranteed to get paid that much money fresh out of college?
Well, not necessarily. It depends on your skill, company, and location, so you could make anywhere from around ₹5,50,000 to ₹12,00,000 as an entry-level data scientist.
Data Science is an exponential growth industry with an annual growth rate or CAGR of 30.0% globally, and it is predicted to grow by $140.9 Billion by 2024.
Why is MAANG so desirable?
A job at MAANG comes with vast opportunities for growth, global acknowledgments, exposure, great remunerations, and perks. Due to these great career opportunities, MAANG companies tempt all job seekers regardless of their job profile. We created a sample for more than 2000 data points, extracted from level.fyi for the US region to depict median data scientist salaries in 2022.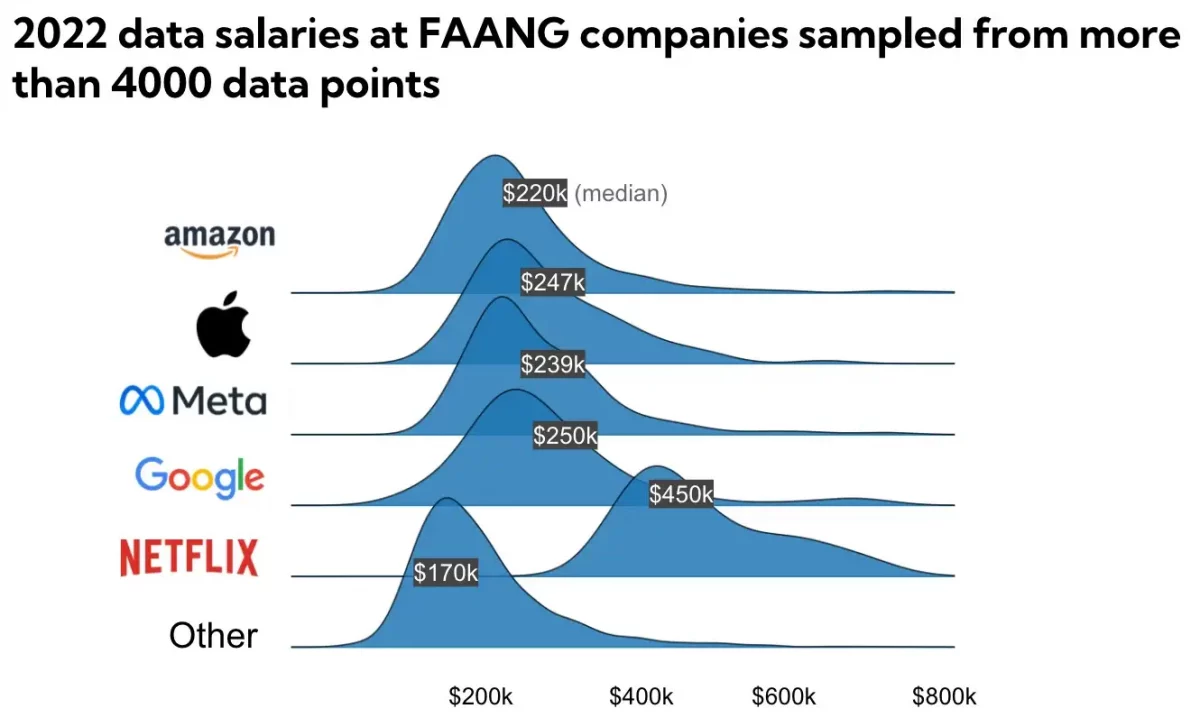 Among all these companies Netflix has a policy where they encourage all data-scientist employees to interview various places and bring back the offers they get. If some company outbids them, they will happily match the previous offer for an increased salary. As for India, data scientists are paid comparably and handsomely pretty much beginning of their careers.
What does a data scientist do?
Primarily, Data Scientists are tasked with investing data points and conducting exploratory data analysis. They also advise and advocate algorithms and build data models for effectively using data. Oftentimes, they are responsible for integrating data within AI Systems using ML and deep learning capabilities to make use of the data.
A data scientist must be able to program in R, Python, or Scala. They should know their way around distributed file systems such as RDBMS such as MariaDB, MySQL, or Hadoop as well as NoSQL DBMS systems. Data scientists should also benefit if they know how to conduct data visualization.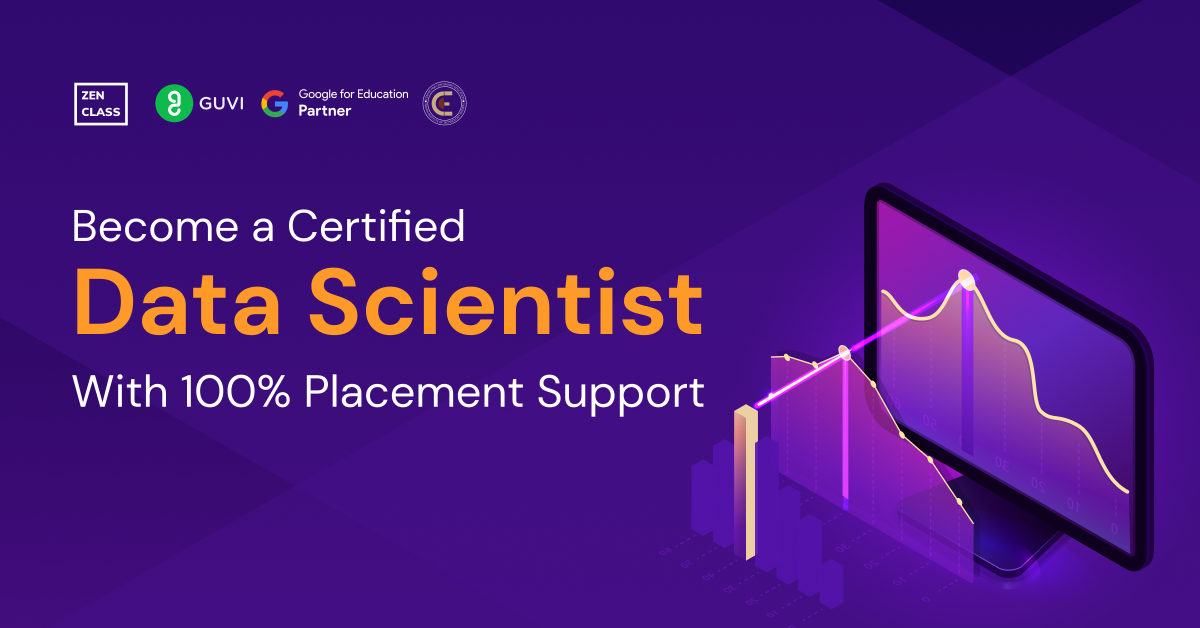 Data Scientist Salaries by Seniority
The largest enterprise including MAANG has various variations of a level (L) system, which specify the seniority of an employee. Most of the tech employers fall in the range of L2-3 (Junior or Mid) to L6 (Manager or Expert). Though in the case of companies like Google the level goes all the way upto L10, most likely an employee with a higher range will not share their salaries.
Entry-level Data Scientists earn an average of ₹5,71,493 annually (based on 533 data points on GlassDoor). However, a data scientist with 1 to 4 years of work experience can earn an average of ₹8,18,099 per annum (based on 2476 Data Scientist salaries). A quick look at GlassDoor shows that the reported salaries at L8 are more than 2M, so I dare you to dream of where it ends at L10.
Whereas proficient or experienced data scientists with five to nine years of experience earn ₹14,20,229 on average per annum (based on 868 data points). More senior-level data scientists with 10 to 19 years of experience earn upto ₹30,00,000.
We couldn't collect the data for salaries of the entry-level, medium, and senior-level data scientists, however, to get a gist, we summarised US salaries of 4000 Data professionals, powered by levels.fyi.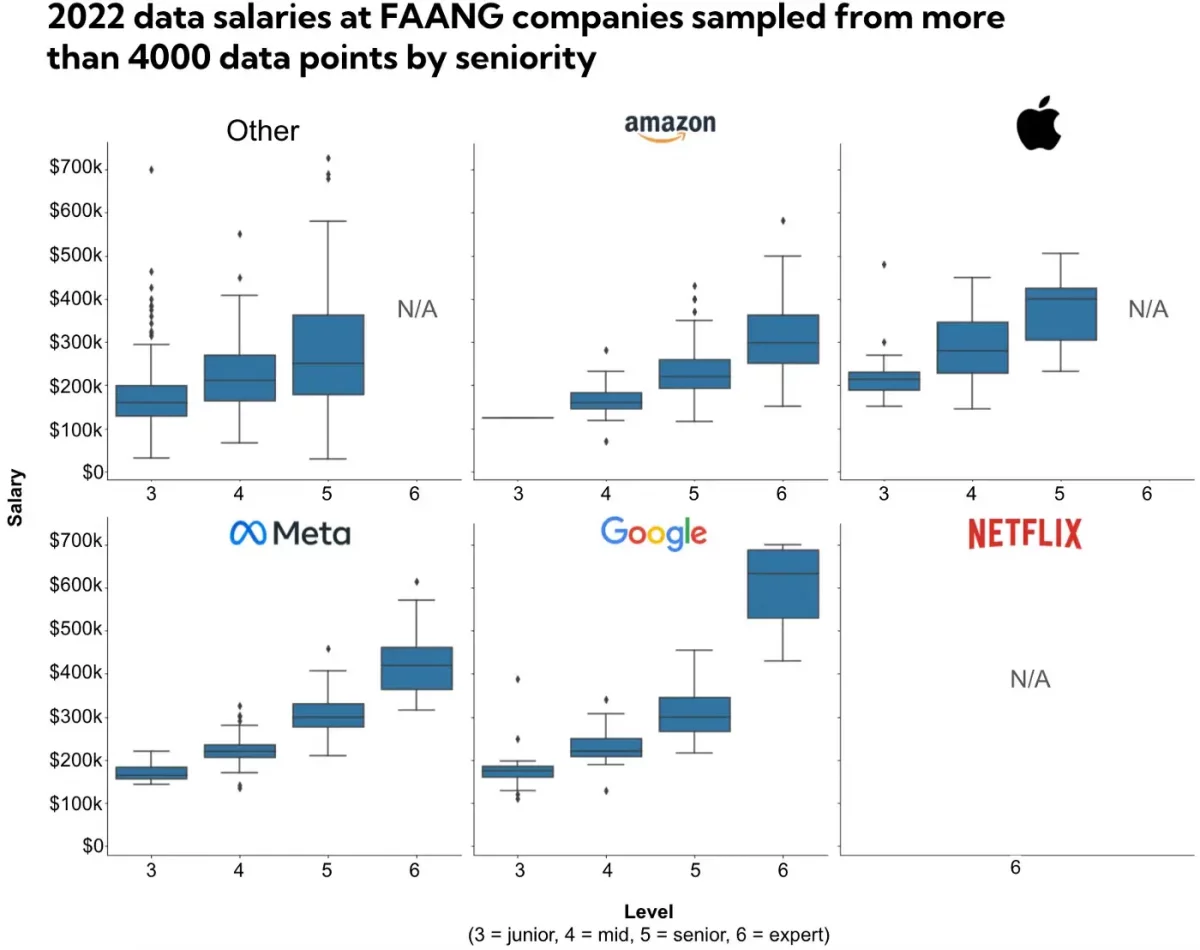 Which Indian Cities pay the most?
It's no surprise that locations affect pay. Most would expect to earn more in IT cities like Bangalore than they would do in Delhi or Mumbai.  One reason: Cost-of-living. There's a clear correlation between tech hubs with high costs of living and average starting pay. Although when it comes to a job profile, there is not a huge disparity between Indian Cities. Here are various average salaries in different cities of India.
Bengaluru – ₹10,03,133
New Delhi – ₹8,82,047
Hyderabad – ₹8,77,564
Mumbai – ₹8,23,692
Pune – ₹7,80,692
Which Indian Organisations pay the most & does company size matter?
When you look into salary data, it's clear that company size affects the average starting salary. You will clearly make more at MAANG company than you could expect at a start-up. So the bigger the size of the company, the better salary for employers. A company like Google pay entry-level data scientist handsomely around ₹10,00,000, while Neilson pays around ₹6,00,000 per annum.
To compare the complete list of Indian companies and their average base salary, visit this link.
What Skills are required to make a career in Data Science?
Data Science professionals are paid higher if they have additional skills other than data science. The skills you bring to the recruiter's table increase your worth. More specialized skills result in higher entry-level data scientist salaries.
Let's say you'll be pretty well off if you have a strong background in machine learning. On the other hand, if you're only really comfortable with the programing language R, then you might want to start learning more Python. In general, higher-paying skills are the ones that require more specific knowledge rather than something generalized like Excel and R.
To get a gist, here's an insight from Payscale into how much one could expect to make based on their skill set.

In Closing
So now, you can predict what you'll earn in an entry-level data science job. However, there are many facets in play that will affect your entry-level data scientist salary.
More crucially-your entry-level salary is directly dependent on the value you add to your company. The more specialized and defined your skills are- the more you'll earn. Don't forget to frequently update yourself with new things in data science. Whether enrolled in an online data science program, have earned a Ph.D., or have in-depth Python experience – the more you expect to earn.
---
The program of IIT-M CCE Certified advanced programming & Data Science offers you the opportunity to learn the most important data & programming skills used by Data scientists & analysts today. Get your start in the fascinating field of data science and learn Python, MongoDB, and Data Handling with the help of experienced IIT Experts & industry instructors. You will emerge prepared to tackle real-world data analysis problems.
Over the past couple of years, thousands of students have advanced their careers in Data Science using Zen Class. The journey looks different for everyone. The Video featured below conveys how one of our bright candidates: Karthikeyan become a data scientist from a mechanical background. The talk session features the success story of Karthikeyan who had the ultimate goal to upskill themselves, similar to yours. It was their consistent persistence and efforts throughout the journey, ensuring 100% placement support, 1:1 mentorship, and advanced structured-vetted curriculum that helped them kickstart their career in the most promising field of Data Science.